Scope
The purpose of the workshop, organized by the TFQD consortium with the support of REA, is to present the results of recently completed and on-going projects funded under the H2020 COMPET and TEC calls from 2015, 2017 and 2018. It will bring together European experts, researchers, and policy makers to share emerging trends in space photovoltaics from a system-level  down to a device-level perspective.
Program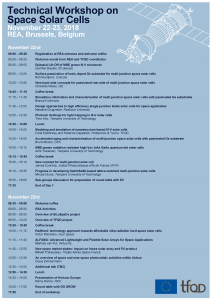 November 22nd
9h00 – 09h20
Registration at REA entrance and welcome coffee
9h20 – 09h30
Welcome words from REA and TFQD coordinator
9h30 – 09h55
Epitaxial Lift-Off of MBE grown III-V structures
Günther Bissels, tf2 devices
9h55 – 10h20
Surface passivation of lowly doped Ge substrate for  multi-junction space solar cells
Rufi Kurstjens, Umicore
10h20 – 10h45
New back-side concepts for passivated rear-side of multi-junction space solar cells
Charlotte Weiss, ISE
10h45 – 11h15
Coffee break
11h15 – 11h40
Simulation, fabrication, and characterisation of multi-junction space solar cells with passivated Ge substrates
Bianca Fuhrmann
11h40 – 12h05
Design approaches to high efficiency single junction GaAs solar cells for space application
Natasha Gruginskie, Radboud University
12h05 – 12h30
Photonic Gratings for light trapping in III-V solar cells
Timo Aho, Tampere University of Technology
12h30 – 14h00
Lunch
14h00 – 14h25
Modeling and simulation of nanostructured-based III-V solar cells
Farid Elsehrawy and Federica Cappelluti, Politecnico di Torino
14h25 – 14h50
Accelerated aging and characterisation of multi-junction space solar cells with passivated Ge substrate
Bruno Boizot, CEA
14h50 – 15h15
MBE-grown radiation resistant high-Voc InAs/GaAs quantum dot solar cells
Antti Tukiainen, Tampere University of Technology
15h15 – 15h45
Coffee break
15h45 – 16h10
New concept for multi-junction solar cell
James Connolly, Institut Photovoltaïque d'Île de France (IPVF)
16h10 – 16h35
Progress in developing GaInNAsSb-based lattice-matched multi-junction solar cells
Mircea Guina, Tampere University of Technology
16h35 – 18h00
Sub-groups discussion for preparation of round table with EC
17h35
End of Day 1
November 23rd
08h30 – 09h00
Welcome coffee
09h00 – 09h30
ESA Activities
09h30 – 09h55
Overview of SiLaSpaCe project
09h55 – 10h20
Overview of TFQD project
10h20 – 10h50
Coffee break
10h50 – 11h15
RadHard: technology approach towards affordable ultra-radiation hard space solar cells
Victor Khorenko, AZUR SPACE
11h15 – 11h40
ALFAMA: Advanced Lightweight and Flexible Solar Arrays for Space Applications
Marloes van Put, Airbus NL
11h40 – 12h05
New space market stakes: impact on future solar array and PV product
Mikael Thibaudeau, Thales
12h05 – 12h30
An overview of space and near space photovoltaic activities within Airbus
Claus Zimmermann
12h30 – 12h55
Additional talk (TBC)
12h55 – 14h30
Lunch
14h30 – 15h00
Presentation of Horizon Europe
Rémy Denos, REA
15h00 – 17h00
Round table with DG GROW
17h00
End of workshop
Venue
The workshop will be held at the Research Executive Agency, Place Rogier 16, 1049 Brussels, Belgium
Directions can be found here.
Accommodation
Hotel recommendations can be found here.
Social Dinner
To confirm participation in the social dinner, please fill out this form.
(to be filled by November 2nd, 2018)